Did You Know That We Coat Fiber Tips?

ㆍ작성자: 전재필
ㆍ작성일: 2022-07-21 (목) 09:51
ㆍ조회: 52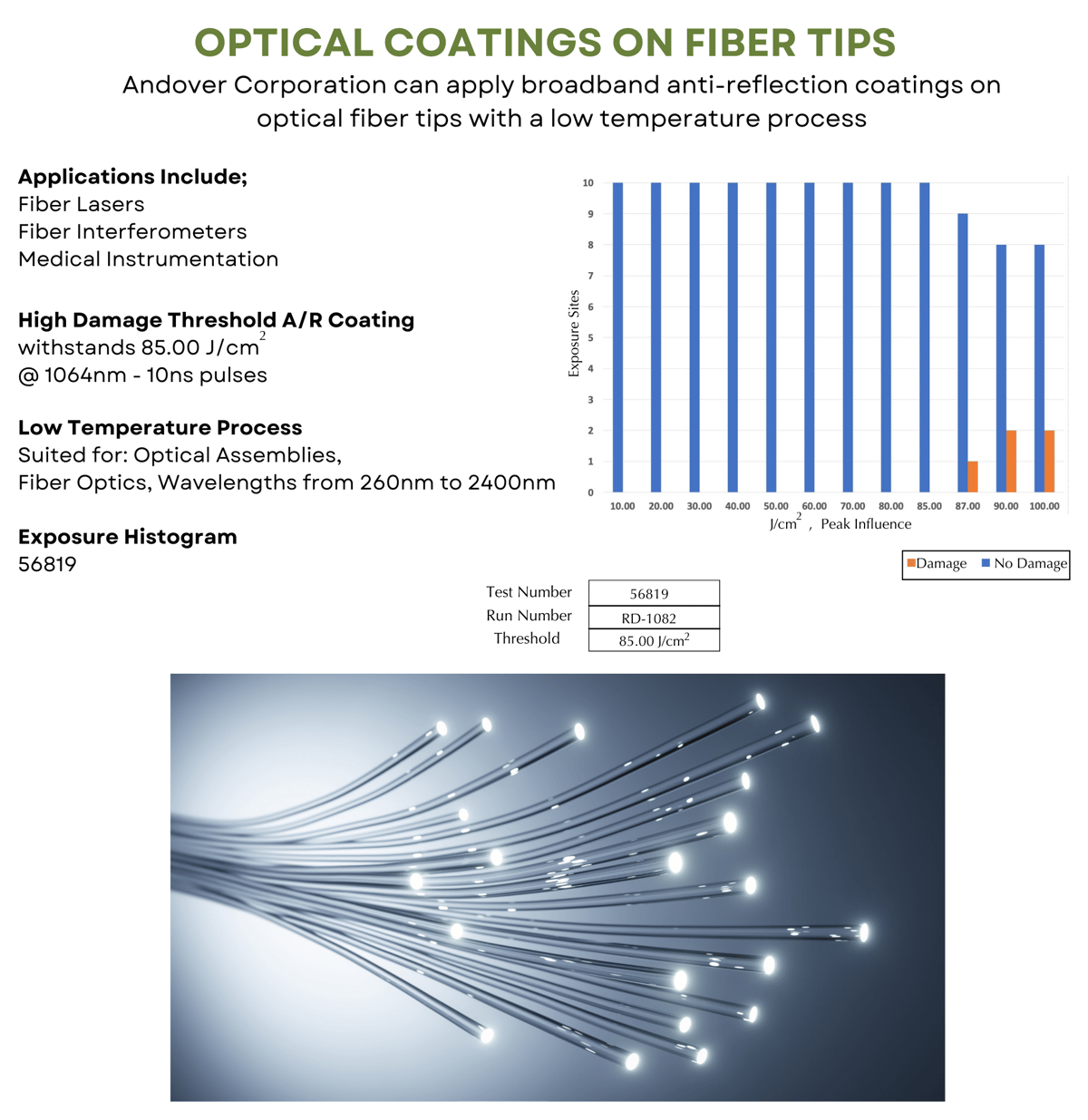 WHY CHOOSE ANDOVER CORPORATION?

Andover Corporation has the unique ability to provide a diverse range of coatings spanning a broad wavelength range on a wide variety of materials. Our talented and highly-skilled engineers can meet your most demanding requirements for your custom needs. We produce coatings for a multitude of applications, ranging from environmental monitoring to space-based astronomy. Our AS9100 certification ensures compliance with aerospace as well as military standards.

Specialized Coatings

Andover Corporation routinely manufactures precision custom coatings in the range from 193nm- 15μm. Types include non-polarizing beamsplitters, multi-band dichroics, dual bandpass filters, multi-band AR coatings and more. We coat a wide variety of substrates including BK-7, fused silica, filter glass, Sapphire, Germanium, Silicon, Calcium Fluoride, Zinc Sulfide, Zinc Selenide and more.

State-of-The-Art Testing

Andover Corporation is equipped to perform a variety of testing, both optical and physical. Our environmental chambers allow us to perform survivability testing at temperatures from -192°C to +500°C. This, along with the ability to vary humidity levels, allows us to ensure compliance with your custom specifications or MIL standards.

Total Quality Control

To ensure total quality control, Andover Corporation uses state-of-the-art testing equipment. We can measure over the wavelength range from 193nm to 50μm, inspect for the most minute surface or internal defects, and characterize the wavefront distortion down to 1/20th wave. Our tunable interferometer allows us to perform transmitted wave front measurements from 350-1100nm.

Andover Corporation also has the ability to measure transmission characteristics at cryogenic temperatures as low as 77°K, over the entire spectrum from 193nm to 50μm.

About Andover Corporation
Andover Corporation is uniquely qualified to produce optical filters and coatings for the astronomy industry. With 40 years of experience, we have designed and manufactured filters for ground-based, airborne, and spaceborne systems. We are ISO 9001 as well as AS9100 certified, demonstrating our ongoing commitment to quality.