UV Filters to Help Battle Viruses

ㆍ작성자: 전재필
ㆍ작성일: 2022-04-07 (목) 14:08
ㆍ조회: 50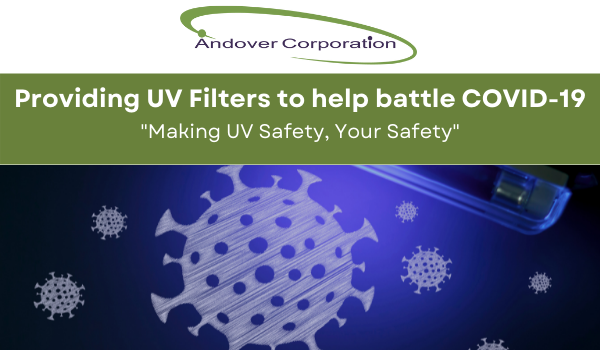 Research has found that "There are ultraviolet lights, with a specific wavelength that do not create ozone, but are efficient in purifying buildings and rooms and therefore are extremely suitable in treating the virus". Furthermore, these same specific lights do not create harmful radiation for the skin and eyes. Using the physical algorithm, it is possible to install light systems and products with the wavelength and different outputs to conform to any size room or building. This type of system can destroy Coronavirus in a time frame of up to 30 minutes without harming individuals.

UV Bandpass filter at 220 nm

The section of the electromagnetic spectrum between X-rays and visible light is referred to as the Ultraviolet (UV) region. Within that spectrum, 3 regions have been designated based on the interaction of certain wavelengths with biological materials: UVA (315 nm to 400 nm), UVB (280 nm to 315 nm) and UVC (200 nm to 280 nm).

When higher energy photons in the 100 nm to 315 nm range are absorbed by cellular organisms, it can damage the cell's DNA. A cell with damaged DNA cannot function effectively, thereby killing the organism. This is the primary reason why UV light is considered to be an extremely effective method of killing bacteria and viruses. Several studies have determined that the UVC range of 200 nm – 280 nm is most effective for sterilization. The studies have also concluded that short wave 200 nm – 220 nm far UVC radiation will not penetrate enough to cause damage to human skin.


Research has shown1that emission at 220 nm from an excimer lamp is capable of sterilization without penetrating to the skins basal layer. However, the lamp spectrum needs to be filtered to suppress the damaging longer wavelengths that are capable of penetration. This can be achieved using a suitable designed UV bandpass filter. Andover now offers a UV filter capable of 40% transmission at 220 nm and blocking of the longer wavelengths to 280 nm. Our filters can be configured to custom sizes for integration to a variety of lamp configurations. We also offer low cost standard products that may meet your requirement.

https://www.andovercorp.com/products/bandpass-filters/first-surface-uv-filters/

https://www.andovercorp.com/products/bandpass-filters/standard/193-299nm/